Android once again took a giant leap forwards with the introduction of Android 12 by Google at the annual conference of
Google I/O
. The newest version of Android is a major one, with a unique design interface and language coupled with features focusing on personalization, privacy, and security. 
Android 12 is a major overhaul that the OS has seen in quite some time. With new features, APIs, design, and better compatibility, the software is quite promising and revolutionary. Enhancing the user experience is the aim of the new Android 12 preview. Google wants the Android experience to scale new heights, and so they've worked on From revamped notifications and widgets to better animations and a personalized design language named "Material You", 
When the public version of Android 12 debuts
later this year,
users will have plenty to look forward to in terms of functionality and design. However, this isn't the biggest change witnessed in the Android version as the long-term redesigns and introduction will prove to be vital. 
Listed below are the major features of Android 12. 
1. Android 12: New Design With 'Material You'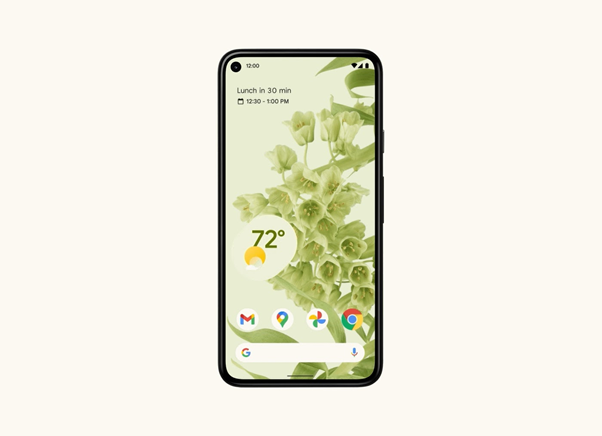 Source: Google
This year Google announced a new design language, an interface, whatever you want to call it, named "Material You". This design overhaul goes beyond Android as it will be applied across the rest of the Google software. This application is to introduce a sense of personalization to the user.
Firstly, widgets are revamped to support the new design language and newer features, making them more personal with better interactive controls. Secondly, system animations also received an upgrade. With more transitions and animations, the OS feels welcoming and fun to use.
Lastly, the overall UI has been tweaked to make it look, sound, and feel modern. With bigger buttons, scrolling animations and haptics, and sound effects enrich the experience to a whole new level.
Most importantly, one of the newest and the most interesting features as part of its UI changes is the introduction of a one-handed mode. With a diagonal swipe from the button corner, users can toggle one-handed mode for easier accessibility and improve user experience.
2. Android 12: Personalization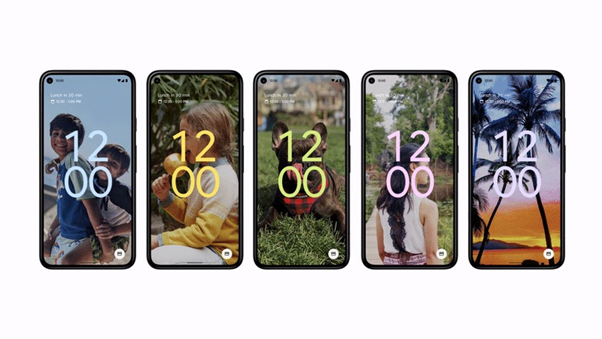 Source: Google
Android is known for its personalization and customization. To amplify this, they raised the bar this year displaying how the OS's user experience can be differentiated from user to user. With Material You, Google has implemented personalization elements throughout the OS, making it more expressive and dynamic. Even as the visual details vary from vendor to vendor, the entire experience of Android 12 is reimagined in various ways.
For example, when you change the wallpaper of your phone, Google picks up the dominant colours. It further changes colours of various system options like sliders and buttons to reflect the dominant or the complimenting colours of the wallpaper. Moreover, when you add a widget to the home screen, the widget background colour reflects the wallpaper's colour scheme. These small changes to the UI aim to make the device feel more personal and consistent across the whole system. 
3. Android 12: Privacy And Security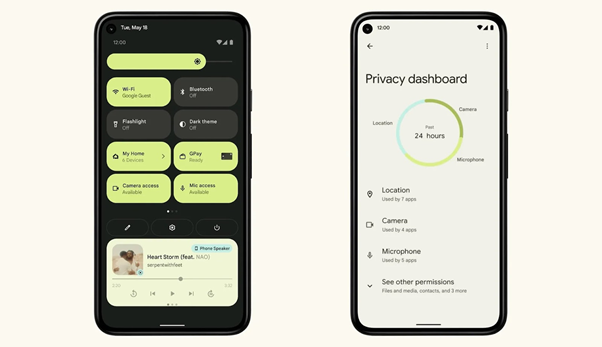 Source: Google
Android is taking gigantic strides when it comes to introducing privacy and security features to make the OS more transparent and safe. With Android 12, users will be able to see indicators showcasing if the camera or the microphone is in use. In addition to this, users can look at charts and usage statistics of the camera, microphone, and location accessed by different apps on the "Privacy Dashboard", . 
For increased privacy and security, a pop-up will appear informing the user that a particular application has "pasted" from your clipboard. This feature might look insignificant, but copying private information like addresses, passwords and other confidential information is common. Therefore, now users will have the ability to know whenever an app accesses the clipboard. 
For apps and websites that don't require your precise location, you have the option to allow your approximate location. With the introduction of the "Android Private Computer Core", Google promises ML computing to take place within the core, without sharing it on the cloud. Most importantly, a part of the release also aims to introduce features like anti-cross-app tracking.
4. Android 12: Performance 
Google claims they have made significant improvements in terms of performance. With faster loading and responsiveness, Android 12 is promising a rich user experience with high performance. The real-world use differs from device to device, more importantly, vendor to vendor. However, the statistical figure showcased by Google does sound impressive. 
The new release claims to have achieved higher performance by becoming faster and more efficient. With this release, they could decrease the CPU time needed for core system services by
22%
. And increased power efficiency by reducing core time used by the system by
15%
. This release also introduces a new standard call performance class. Furthermore, it allows developers to build high-performance apps.
5. Other Features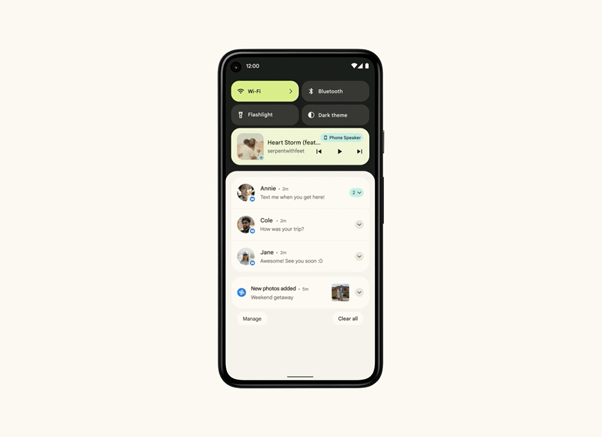 Source: Google
One of the new key Android 12 features includes better connectivity and compatibility with other devices. Now, users can share media across Android and Chrome OS devices and easier pairing with Bluetooth devices.

New design elements include slightly revamped notifications; the functional feature set now includes new modern elements. In addition to this, notification performance has improved drastically with better system inclusion and responsiveness.

One of the longest requested features, Android 12 now natively supports scrolling screenshots. Now, when a user takes a screenshot, they will have the option to "Capture More". As a result, it allows the user to take long scrollable screenshots. 
In Conclusion 
As of June 2021, Android has a
73%
market share regarding the mobile OS market. Building Android applications is critical to increasing your app's reach. Moreover, leveraging the latest features and functionality is essential to provide your audience with the best experience.
At
Catalyst Media
, our industry-leading team of designers and developers have the right expertise and experience to lead the development and maintenance of your application. Our experience with Android app development, In-App purchases on Google Play and Kotlin makes us your ideal business partner. 
Did this post successfully explain the newest features of the Android 12 preview? We hope you enjoyed the insights! If you feel we missed anything, let us know in the comments.
Get in touch with us for any application development needs!