Leading businesses are choosing Shopify website development for selling their products and services. Shopify has been supporting and building a high proportion of e-commerce since 2006. Several top Shopify websites have the largest E-commerce platform market share in the USA as of 2021, with 23% of online business owners using it to power their stores.
But why do we have so many Shopify websites examples?
Here's why: 
Easy to use

– It doesn't matter if you are not well-versed in the technical part of running a website. Users can build their websites from scratch with the help of Shopify. 

Extensions

– Shopify website developers impart many features and remedies to business owners that could benefit their stores. For example, if you want to optimize your website, you can easily use inbuilt apps in Shopify like 'SEO Suite' and 'SEO Image Optimize.'

Multiple payment options

– Customers can benefit from having a wide range of payment options, such as Paypal, Apple Pay, Amazon Pay, Stripe, and many more third-party payment integrations. 

Assortment of themes

– Shopify website development

allows you to choose the perfect piece for your website from a broad spectrum of paid and unpaid choices. You can scan numerous themes with distinct styles, designs, functionality, and pricing to select the best theme for your store. 

Cross-channel selling

– Shopify boosts your business sales on several platforms such as, 'Amazon,' 'eBay,' 'Facebook,' etc. By paying for one platform only, you can benefit from getting sales from various other platforms. Susequently, growing your business vastly across different networks. 

Splendid support

– Shopify provides phenomenal customer support. Consequently, giving solutions to a long list of commonly asked queries as soon as possible. 
An extension of Shopify, Shopify Plus is designed to serve the needs of significant businesses whose growth went beyond just one market or country. It allows its users to sell internationally,  as a result attracting other business owners globally. So let's take a look at the top Shopify websites.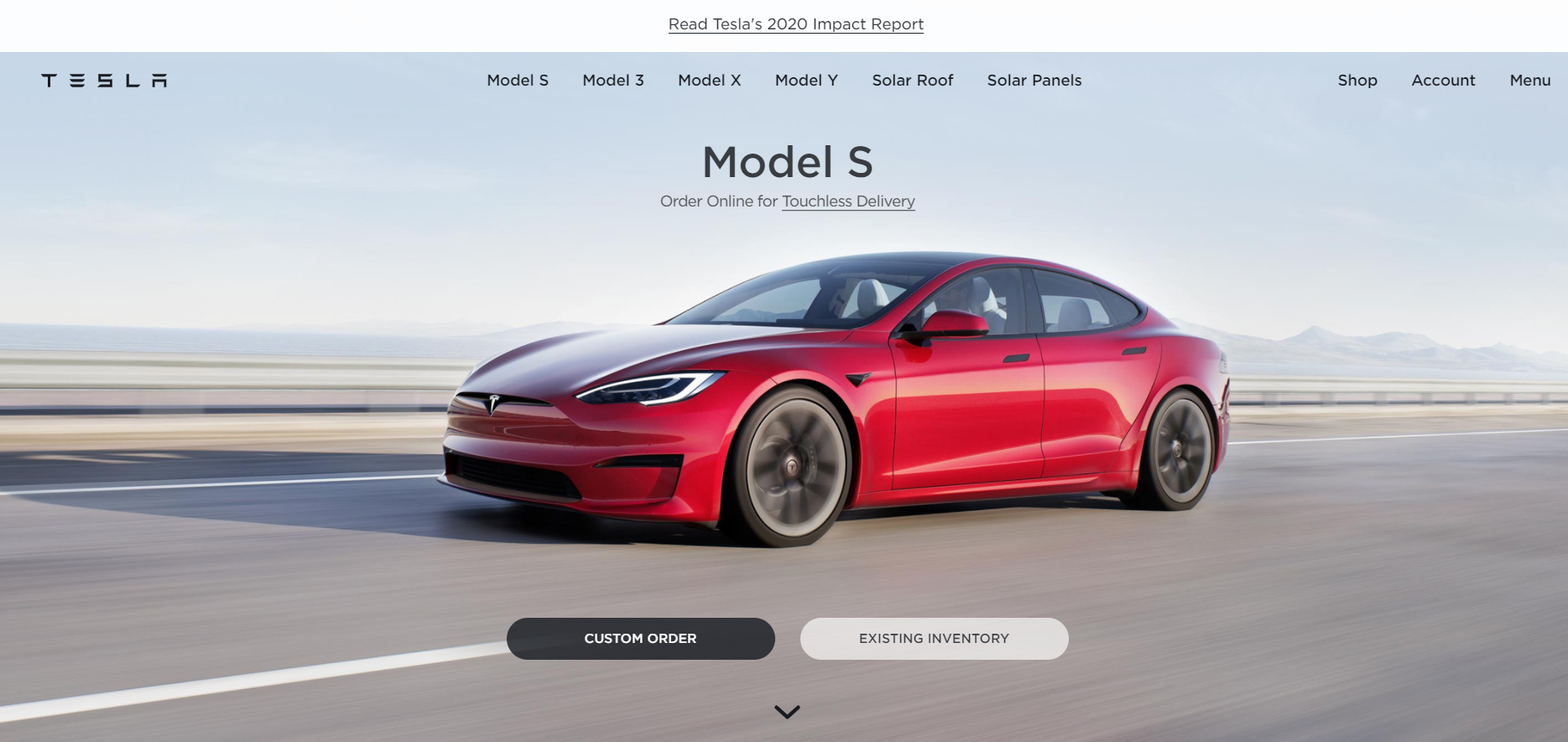 Source: tesla.com
In San Carlos, California, the United States, Tesla was established by engineers with a similar mindset of transforming how humans drive cars. They wanted to prove that electric cars can help us attain sustainability and save the earth's valuable resources.
Full-page images, infographics, a basic yet remarkable web design, and incredible photography are all put together, in order to create separate product pages that stand out from Tesla's competitors' websites. 
From being thoroughly explanatory to having a fantastic visual design, Tesla does it all with the help of the Shopify website development team.
Certainly, Tesla lets its innovative products do the talking on their website. Still, with the help of Shopify, they have made their website visually exquisite, extremely practical, and informative.
They have described their innovative technology in steps, using intelligent website design and animation so that the user can't get enough of Tesla.
Tesla is undoubtedly one of the top websites built with Shopify. Why? Because their Shopify store is one of the most profitable and user-friendly stores, bringing an outstanding revenue of billion dollars annually.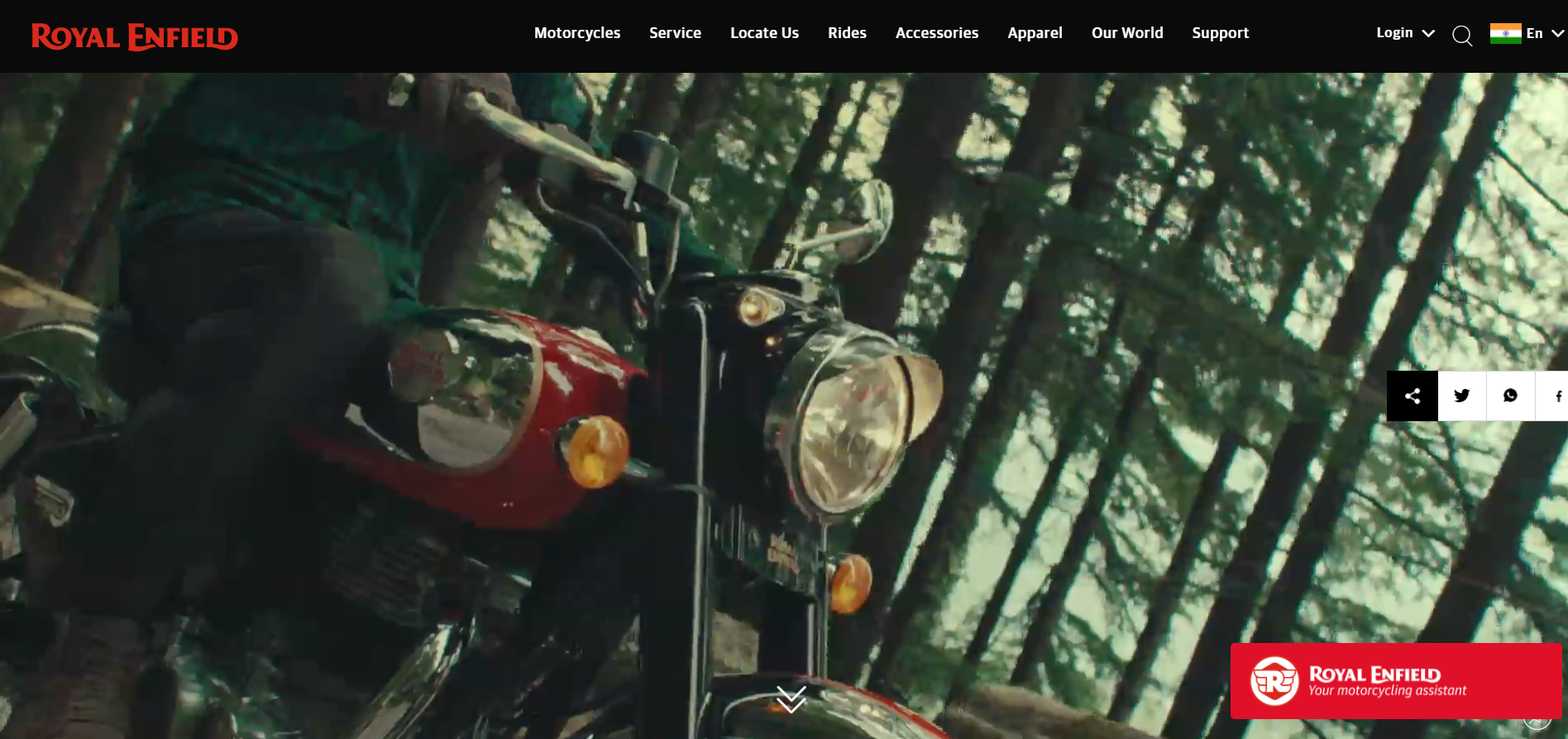 Royal Enfield is an Indian multinational motorcycle manufacturing company. Its headquarters is located in Chennai, Tamil Nadu, India. Royal Enfield has always been famous amongst bikers as its brand provides a sense of strength and a countryside charm. 
The sale of Royal Enfield motorcycles increased up to 84% to 66,058 units in March 2021 from 35,814 units in March 2020.
It is no secret that Royal Enfield delivers a perfect motorcycling experience. Royal Enfield sells its protective equipment, apparel, merchandise, official accessories, and storage through its Shopify store to increase customer loyalty.
Royal Enfield's camouflage theme Shopify store intends to be interactive right from its homepage. Their website displays comprehensive product sections like, 'The All-New Classic 350.' Further, it also provides the visitors with various highlights like, 'Royal Enfield Podcasts.' 
There are CTA buttons like, 'Must Have For Your Next Ride with every product image.' A great way to increase user engagement on a website. It's, therefore, no surprise that Royal Enfield is one of the top Shopify websites.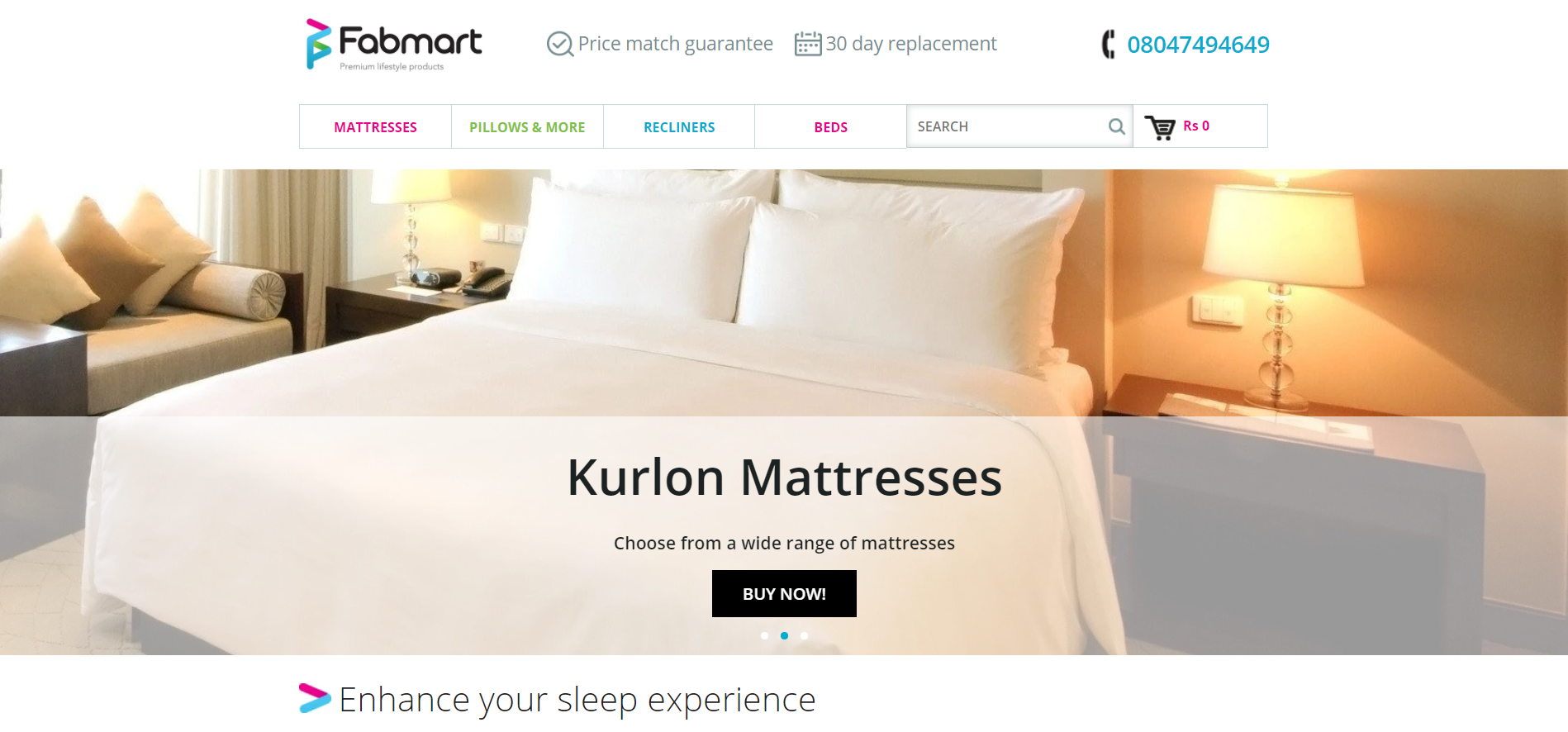 Alphonse Reddy started Fabmart in 2012. Fabmart sells curated premium-quality sleep products to discerning shoppers. They aim to be their customer's online caretakers of sleep, subsequently selling them premium-quality mattresses. 
Amongst other top Shopify websites, Fabmart's online store catches the eye of its visitors as it is designed naturally and neatly. The white background and the blend of bright and muted colours accompanying the lively font on the logo impart an impression of composure and peace that matches the store's brand. 
Fabmart's estimated annual revenue is calculated to be a splendid 16.9 million US dollars.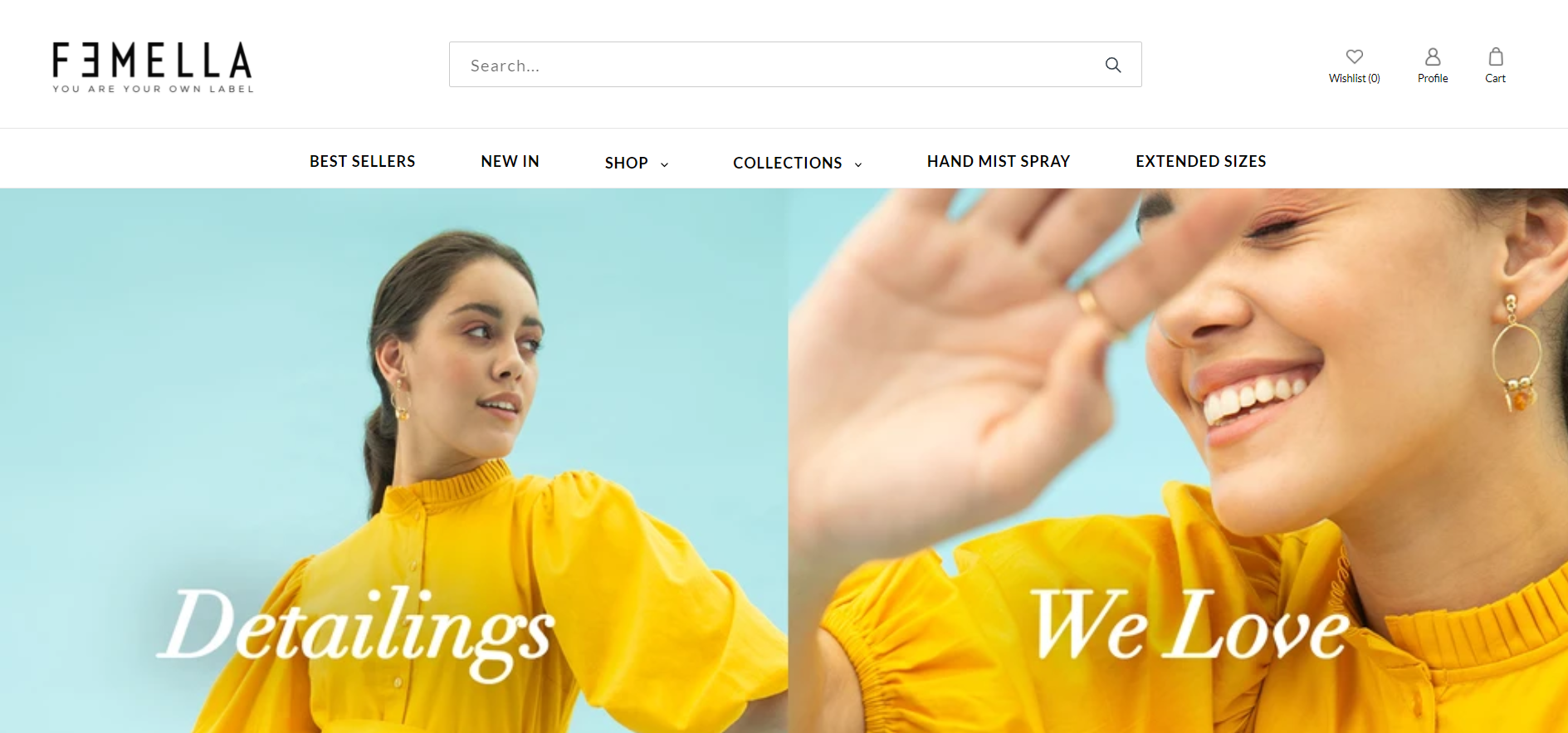 They promise their customers to give "ultimate comfort, versatility, and quality at value for money." Femella's trendy Shopify store intends to be low-key and has a clean white background. This makes the sunflower yellow cover photography stand out, consequently making the website's appearance full of life. 
Amongst top websites built with Shopify in India, Femella.in gives out austere vibes. Hence, attracting a modest audience. 
Shopify website development presents Femella. in's basic yet extraordinary clothing design layout on the page and loads of browsing features so that visitors can explore the website more freely.
Femella's Shopify store brings in many design aspects and options with a superior navigation system, tools, and applications where prospects are provided with CTA buttons, which help increase user engagement. 
Femella's estimated annual revenue is calculated to be an incredible amount of Rs. 25-50 crores.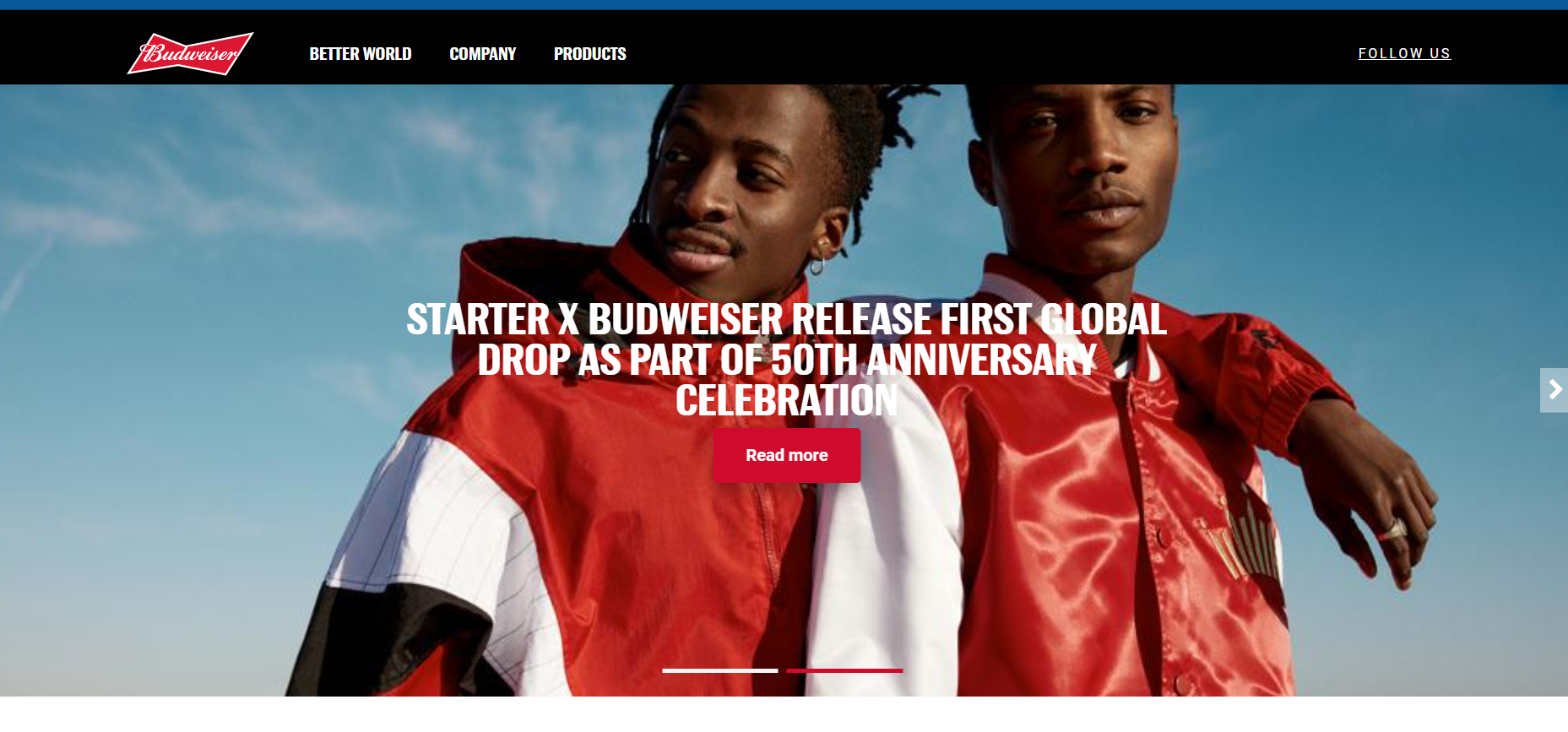 Adolphus Busch built Budweisers in 1876 when he joined his father-in-law's brewing business. Their collective goal was to sell the best-quality beer for the American population.
Budweiser beer is globally famous for its smooth texture and unique aftertaste. Their website has recorded more than $11 billion in sales on the Shopify platform. 
Budweiser requires a web channel in order to handle many international deliveries, and the Shopify solution is perfectly suitable for it. Budweiser's website exhibits its original red and white colours, appealing to its huge loyal customer base.
Budweiser's online store is easy to navigate, and its drop-down menu helps users get quick access to the products offered by the company. Their website is very engaging and attractive, making Budweiser one of the most profitable, top Shopify websites on our list.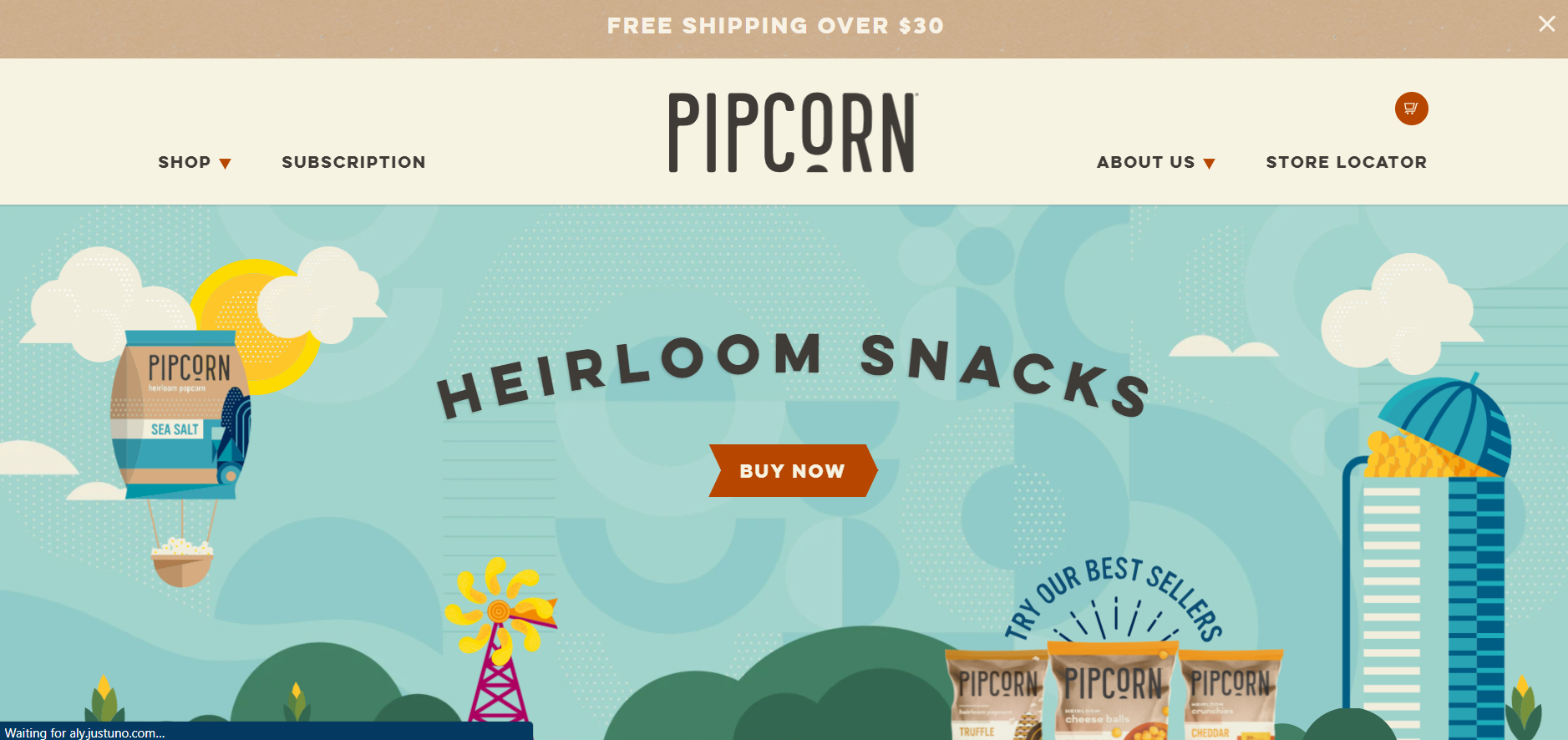 Jeff, Jen and Teresa established Pipsnacks in 2012. People consider snacking a bad habit. Therefore, Pipcorn's main focus was to redefine snacking with the help of heirloom corn, which is sustainable. 
Pipsnacks' website is designed by Shopify website development in rich colors and therefore, making it very interactive for its users. That is to say, the moment you click on this website, you will see their products and have an idea about their company.
Pipsnacks' online Shopify store is easy to navigate and has a special personal touch within. Pipsnacks stands tall on customer loyalty as it openly shares its manufacturing process and its team-building with its customers.
This is one of the top websites built with Shopify as they know their target audience's fundamental concerns. Pipsnacks understood that consumers want to be as environmentally friendly as they can, and thus they launched healthy snacks. 
Their Shopify store is very interactive as well as attractive. Pipsnacks has an estimated annual revenue of 5-25 Million dollars, thanks to their charming online store.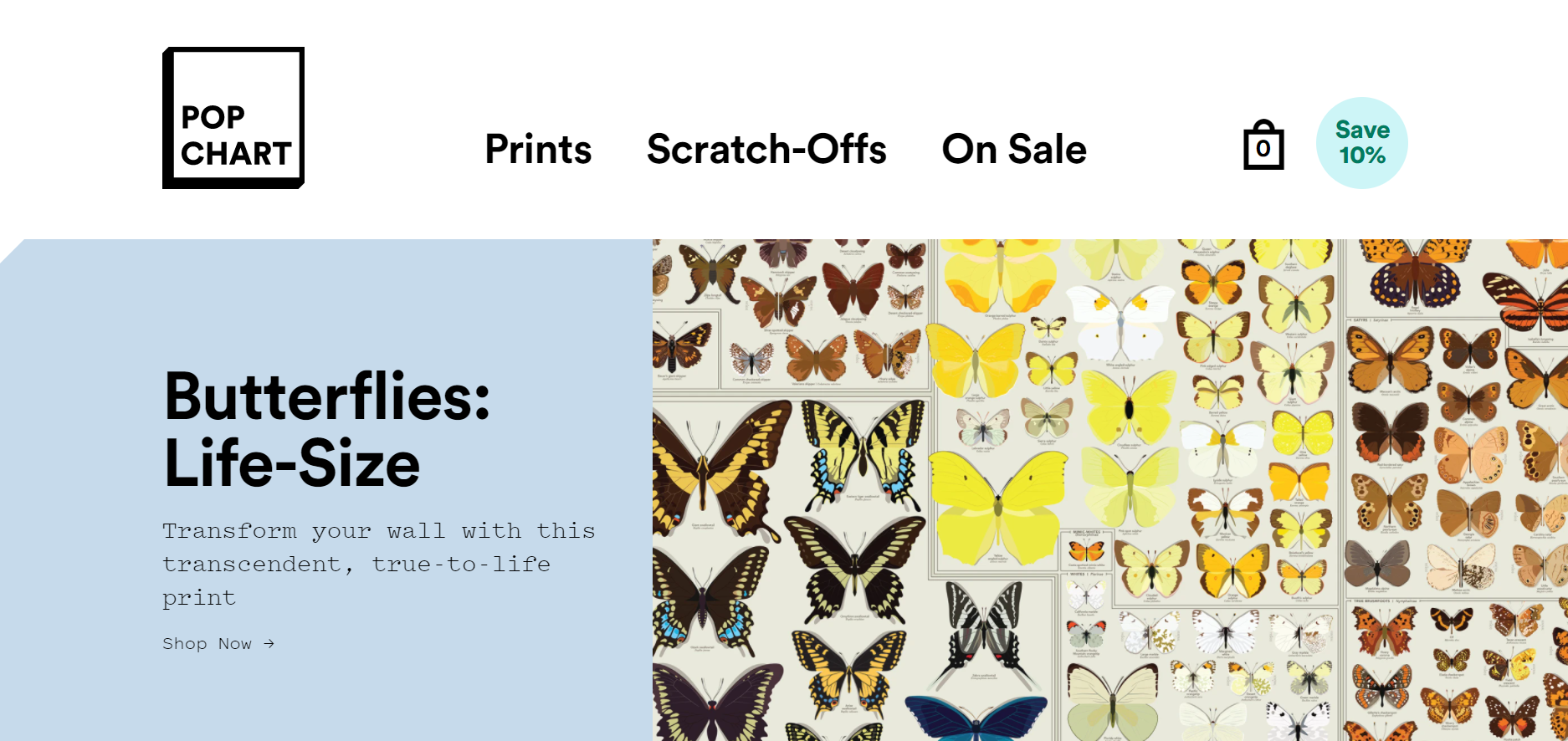 Pop Chart is another example of Shopify stores that uses a basic web design to highlight their bright, trendy products and photography. Pop Chart's website is in the same vein as its colourful posters. They sell infographics about almost everything. 
In contrast to its simple white background, Pop Chart displays its polychromatic and trendy posters. The website has a scroll-down navigation system that allows the user to explore the website freely.
Pop Chart's customer experience is enjoyable and easy. It has a vast, readable font across the website, reading the product's titles and descriptions. Throughout our list of top Shopify websites, Pop Chart's Shopify store emits utmost positive vibes. Therefore, attracting a lively audience. 
With the help of Shopify, Pop Chart earns an estimated annual revenue of 5-25 Million dollars.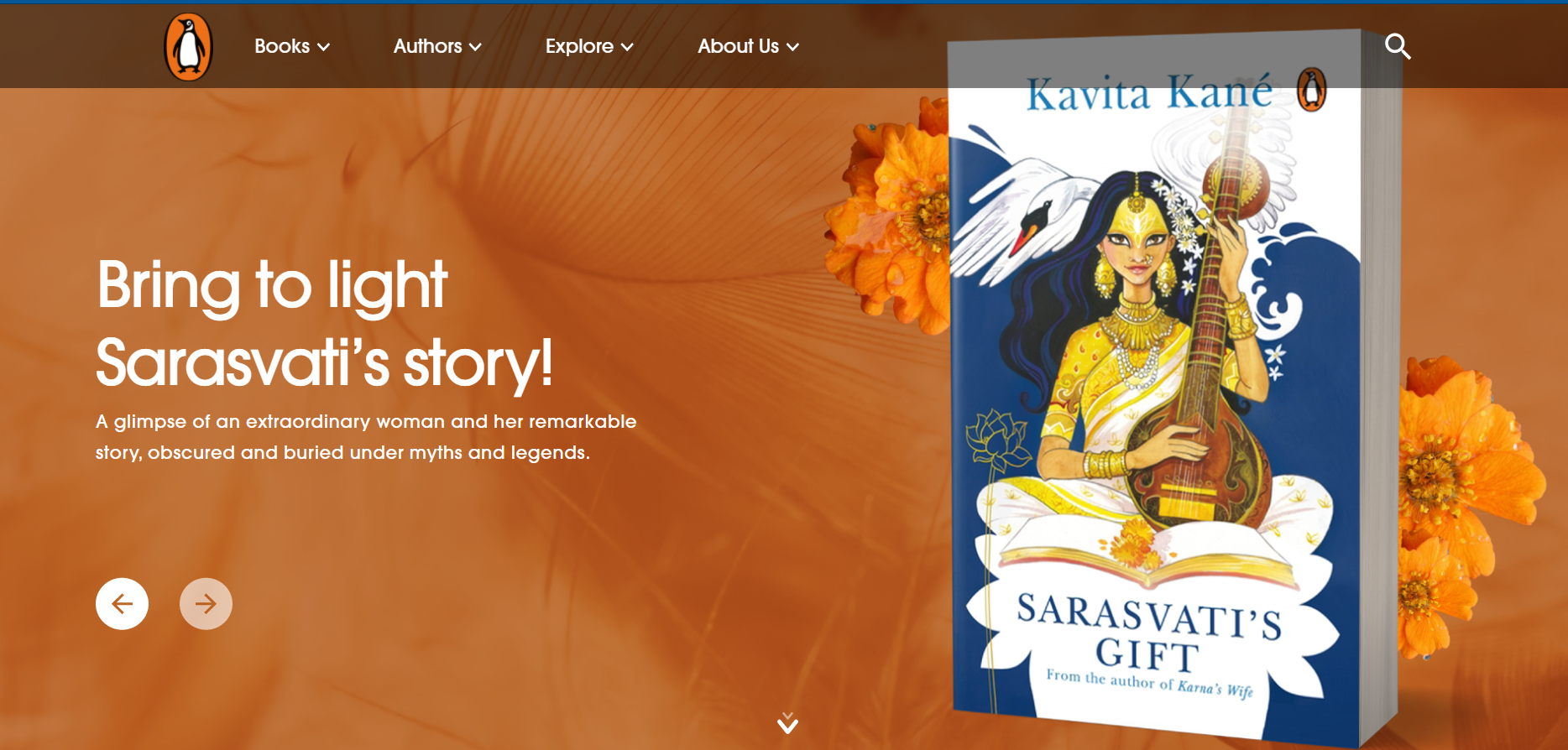 Penguin Books has a phenomenal online book store. Amongst other top websites built with Shopify, Penguin Books was originally co-founded in 1935 by Sir Allen Lane with his brothers Richard and John. 
This company brings literature and as a result, happiness to people across the world at affordable prices. 
Shopify website developers have set Penguin Books' website design in a pretty yet straightforward way that allows its users to explore freely with the help of its scroll-down navigation system.
Along with eye-catching banners, the site also provides thorough descriptions of 'Best-Selling Books.' Additionally, it gives the visitors a CTA button to immediately buy these books.
In 2020, publishing company Penguin Random House earned revenue of 3.8 billion euros.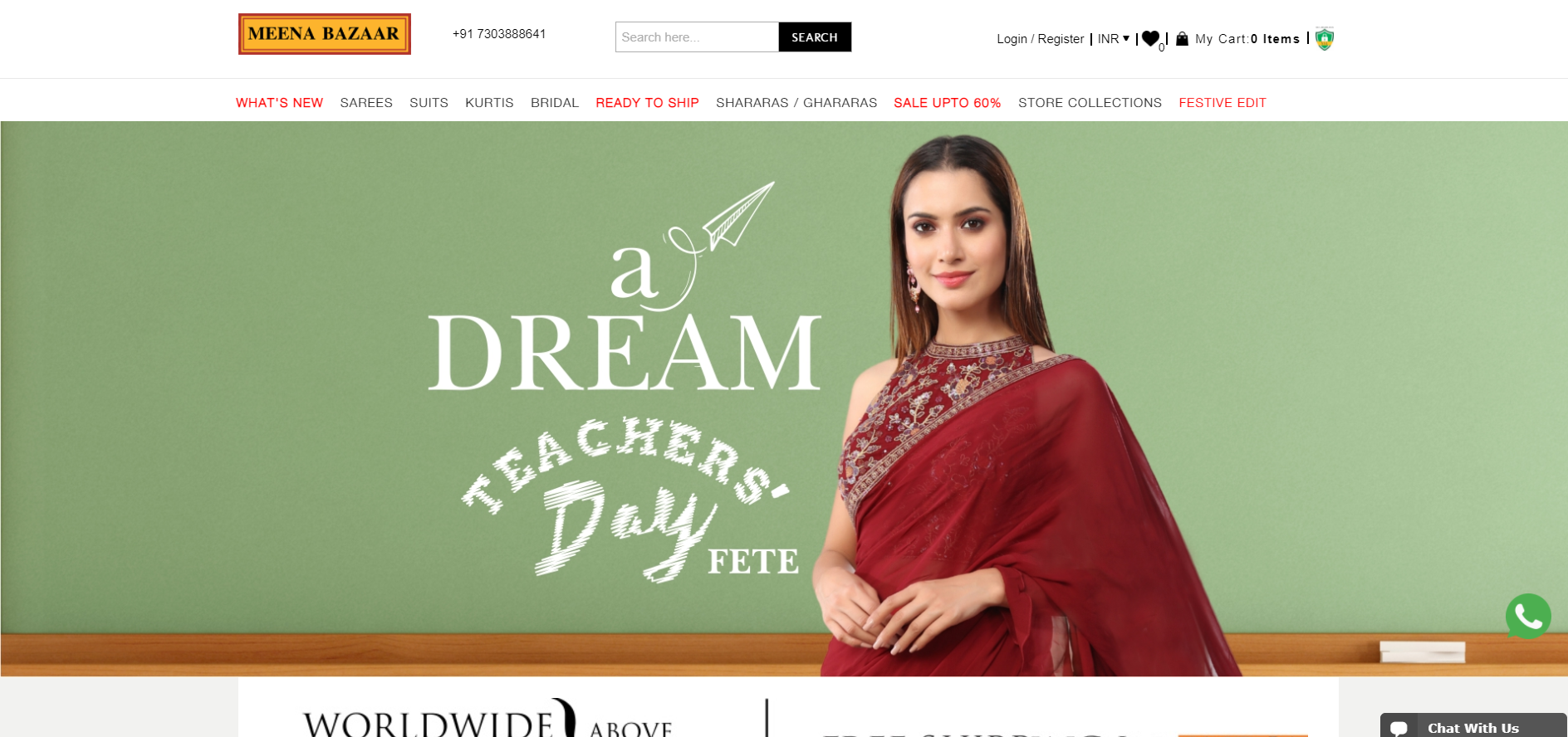 Meenabazaar is one of the superlative top websites built with Shopify that are an actual representation of Indian culture. The design of the store is magnificent in illustrating their brand identity, that is, modern and straightforward. 
The fading green background with a close-up photograph on one side clearly shows that the website designer paid attention to detail, an excellent attribute to any online business.
Meena Bazaar's Shopify store online offers the best shopping experience to its customers per the latest collection of Kurtis, Sarees, Salwar Kameez, Jewellery, and more.
One of India's most leading, top Shopify websites, MeenaBazaar.com's navigation system is designed in order that customers can freely explore various clothing options. The website is user-friendly and interactive too.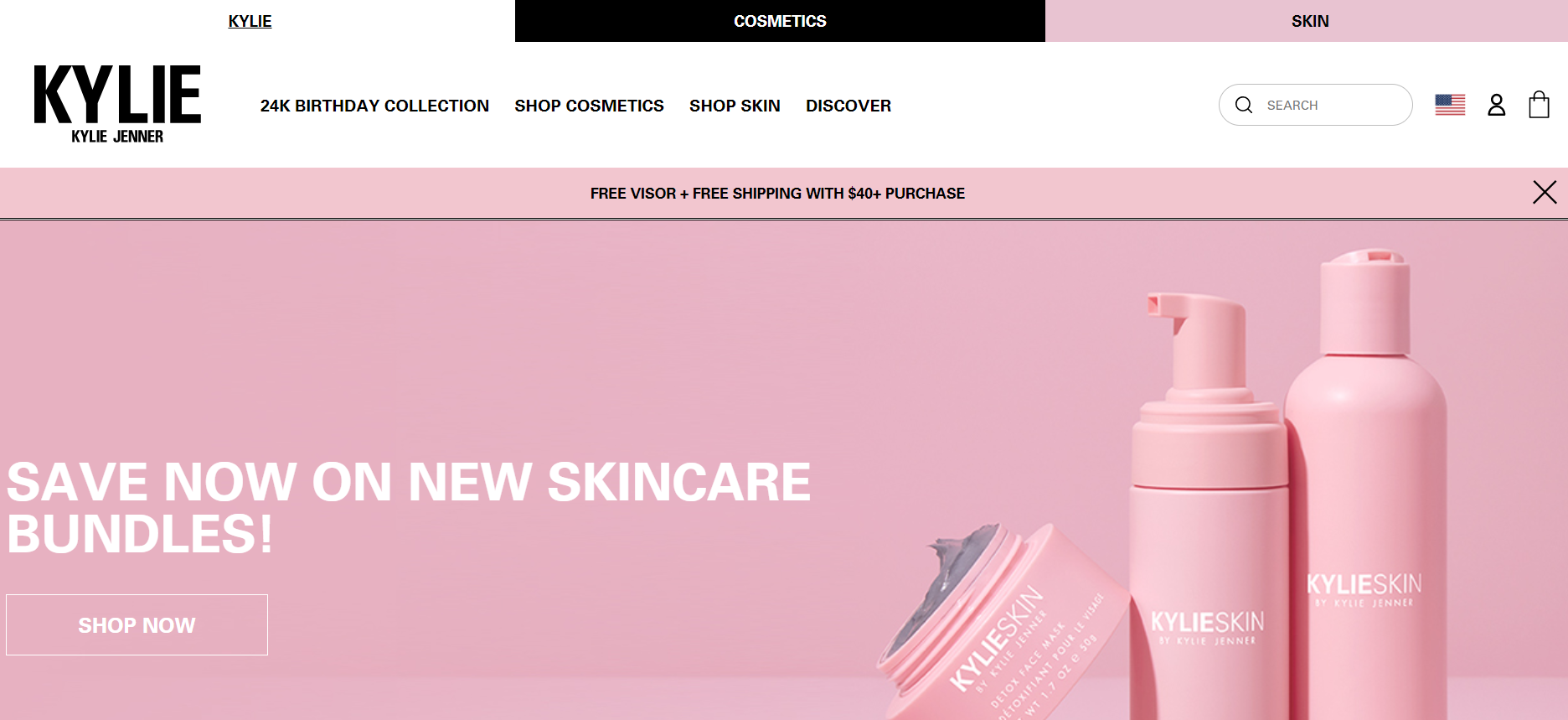 Thanks to her 267 Million followers on Instagram, it was an instant hit when Kylie Jenner started her Cosmetic company. Her site has a very recognizable feminine aura, with a baby pink background that showcases skincare products. 
Kylie Jenner's website is amongst the most unique, top Shopify websites as its developers have designed the website to be exceptionally user-friendly. 
It claims to sell "clean," "cruelty-free," and "gluten-free." Hence, attracting its "woke" audience.
Kylie's site displays its top seller product, 'Kylie Lip kits' on the homepage itself. Thus. successfully captivating make-up enthusiasts.
Kylie Jenner Cosmetics" estimated annual revenue is calculated to be a whopping 100-500 Million dollars.
In Conclusion
That wraps our list of 10 Top Shopify Websites Examples For Your Next eCommerce Idea. Shopify is truly a leader in the e-commerce industry. 
Your website is a crucial part of your brand and its online presence. So designing and maintaining your website based on your core values and services is the need of the hour. 
Shopify offers everything you need for your eCommerce store while having the most straightforward terms to use. The platform provides you with various valuable features that run your eCommerce website up to the mark and practically lift it to a higher level. 
If you want to have a business with complete freedom and not worry about the ownership of a website, then choose Shopify.
At Catalyst Media, our team consists of Website developers backed with years of knowledge and experience to create a website just as you envisioned. Moreover, our designers and skilled developers will utilize, customize and maintain your Shopify website.
Did this post successfully explain the various reasons to consider Shopify for your website? We hope you enjoyed the insights! If you feel we missed anything, let us know in the comments.